Pay your bill, it's Easy at Tango!  
You have 5 payment options to pay your bills:
Find the direct debit instruction to be filled in here and send it to our Customer Service.

You'll have to wait for your first successful direct debit before your direct debit becomes active. If it is unsuccessful, please pay your bill via MyTango app, Payconic or any other payment method available to you.
To find out if you have a direct debit arrangement, refer to the first page of your bill and check whether the mention "New balance debited from your bank account on XX" is indicated there.

Please note: If you change your bank or bank account, you must renew your direct debit authorization. Fill in the direct debit instruction with your new information and send it to our Customer Service.
​
Log in
Once on the homepage, go in the "Bill" menu

Payment of your invoice via the application will require the use of your credit card
 Your features depend on your profile: account administrator or secondary line. Only the account administrator will be able to access all invoices and lines and has the right to modify them.
Log in
Once on the home page, find on the right the amount of your invoice
A "pay" button appears at the top right of your screen, click on it.
Click below for the tutorial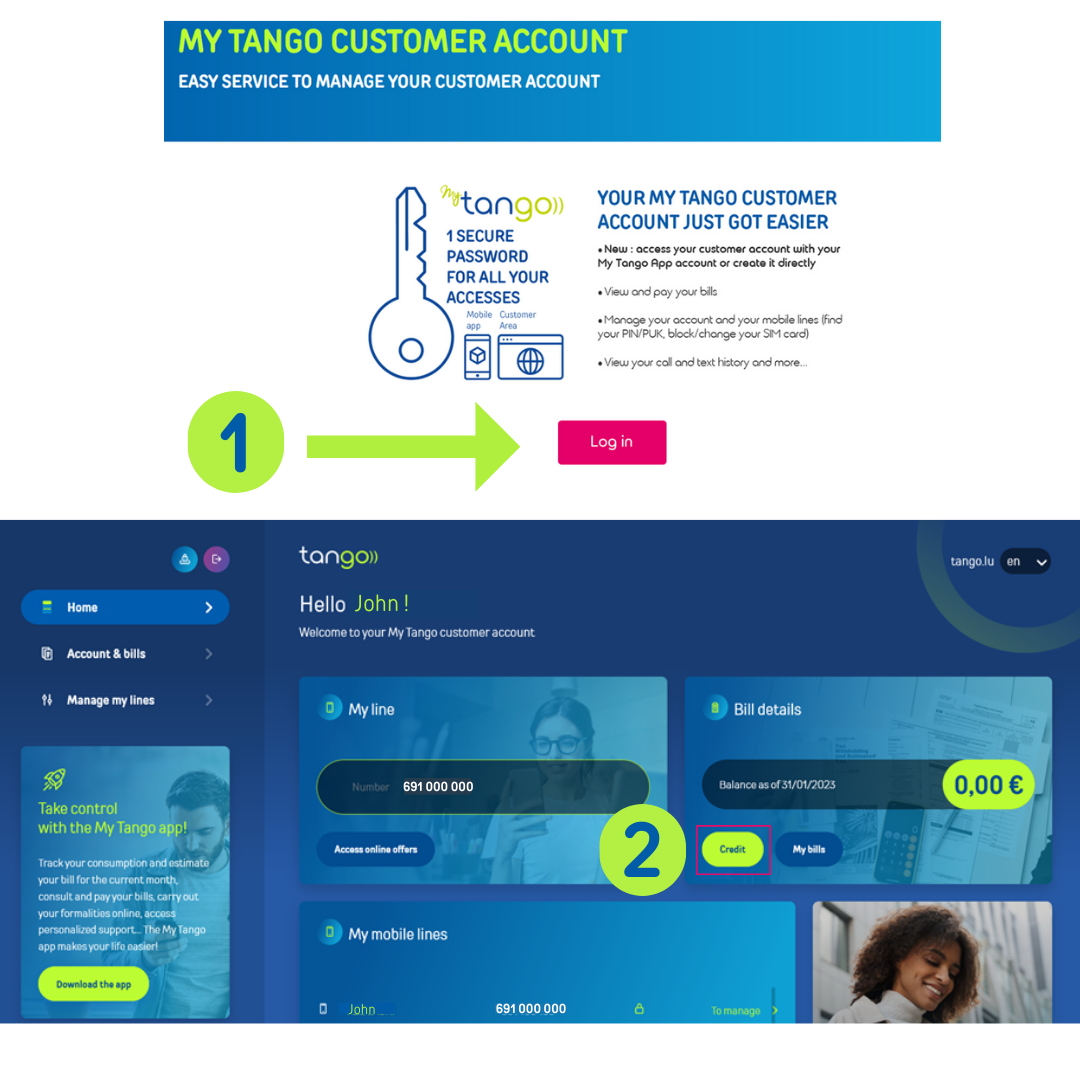 Here are the details you need to pay by bank transfer:

- BIC (BCEELULL)
- Bank account number (LU39 0019 2300 0222 7000)

Don't forget to specify your customer account number or telephone number when paying.

We wish to remind you that in case you fail to pay your bills, Tango reserves the right to block your lines, Internet and TV.
Open Payconiq by Bancontact app on your mobile phone

Scan the QR code available on your invoice, the due amount shows

Confirm the payment using your phone authentication (PIN / Finger prints / Face ID)

Done ! Your invoice is paid.
---
Help and support