Tango tags along on your trip: the smart way to travel with peace of mind and avoid nasty surprises!
Are you heading off on holiday abroad and want to stay connected? Whether it's to call your friends and family, look up an address on the Internet or watch TV on your tablet... Discover how Tango can help you communicate abroad and keep in touch with home without the expense and the stress 😉
Before you leave, prepare your mobile to enjoy your trip with peace of mind🌴 :
Traveling in Europe 🇪🇺? No worries, it's included in your Tango Smart subscriptions: calls, text messages and data are valid throughout Europe.
On the other hand, using your mobile subscription unchecked outside Europe can be expensive 💸 , which is why you need to know the detailed rates by country.
In your App, go to the "Data Roaming Control" tab, where you can set your roaming data consumption limit. If your limit is set at €50, when you use data abroad, once your data sessions hit €50, your data will be blocked.
​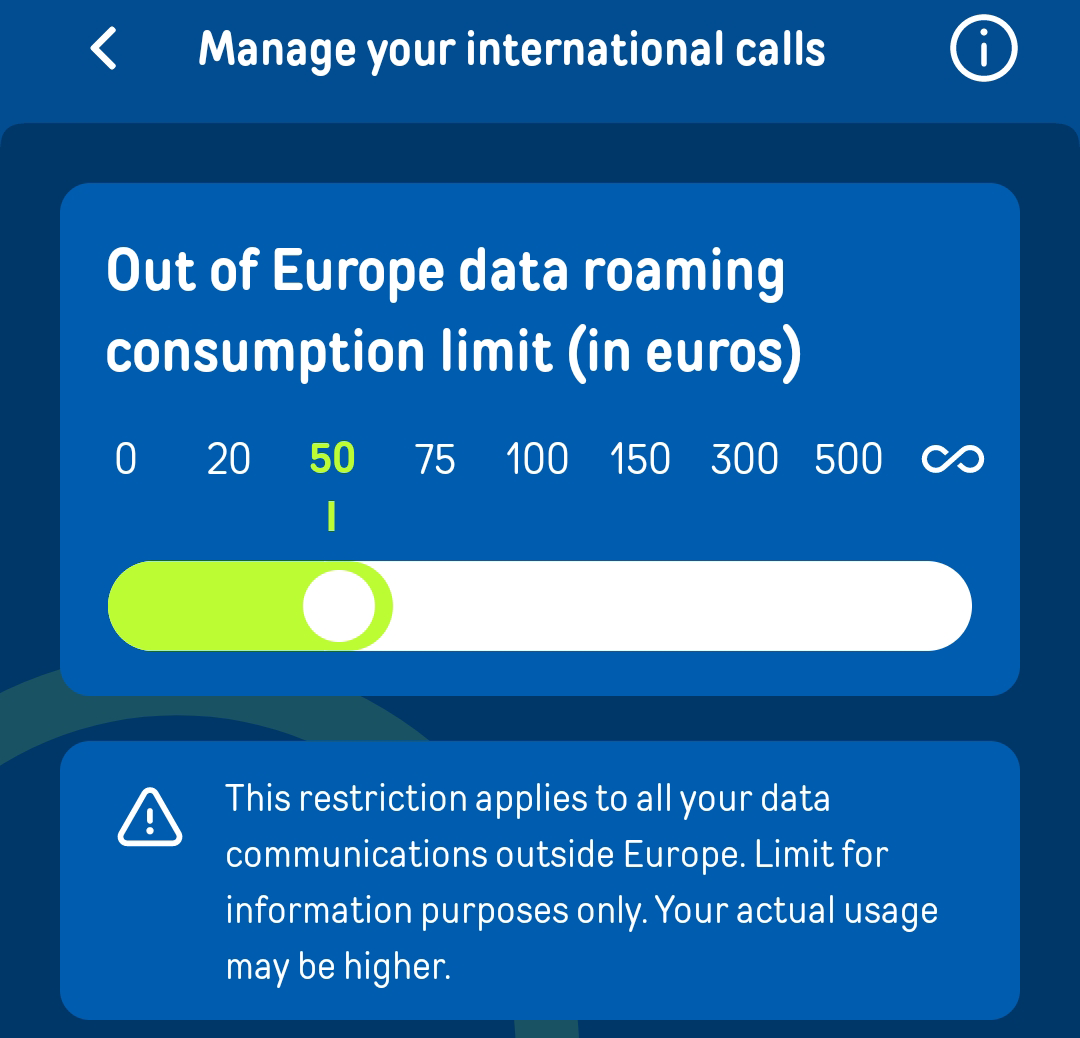 Please note! This limit is reset at the next billing date.
Tango has set up a roaming calculator for you! It allows you to find the communication rates in the country you want to visit quickly and easily.
Simply enter the name of the country you are traveling to and find out the costs of incoming/outgoing calls, texts/MMS and data traffic. Check out the screenshots in the last section of this article to find out how it works ⬇️.
→ Find the roaming calculator in the "Data Roaming Control" tab of the My Tango app.

The calculator also advises you whether it is cheaper for you (depending on your holiday location) to subscribe to the Voyager World option.
This option allows you to make and receive calls, send and receive text messages and use data in 38 countries outside the European Union for €8 per day (session valid for 24 hours from the moment the roaming option is triggered). See all the terms of the Voyager World option → here
→ Activate the option easily via the "Options & Services" tab of the My Tango app.
Keep an eye on your communications, from your deckchair 🏖️️:
Tango tags along with you even abroad ✈️!
As soon as you arrive in a foreign country, you'll receive a text message informing you of the current rates in the region (depending on your plan) and practical numbers (emergencies, messaging, etc.).

To avoid any nasty surprises due to exceeding your plan, check your consumption here the My Tango app 📱. Once you're connected, on the home screen you'll find counters to see how many texts you've sent, how many hours you've called and how much data you've used.
By clicking on "Estimate your bill for the current month" you'll also have a view of any expenses outside the plan.
If you want to subscribe to the Voyager World option, now is the time! Don't forget that once activated, your session lasts 24 hours 🕛!
After that, you'll have to activate a new session to avoid using up the extra bandwidth. In your App, a dedicated counter will be displayed to help you track your usage.
A closer look at the Tango roaming calculator:
Discover the new Tango roaming calculator!
It lets you check the communication rates for the country you want to visit 🏞️🌅.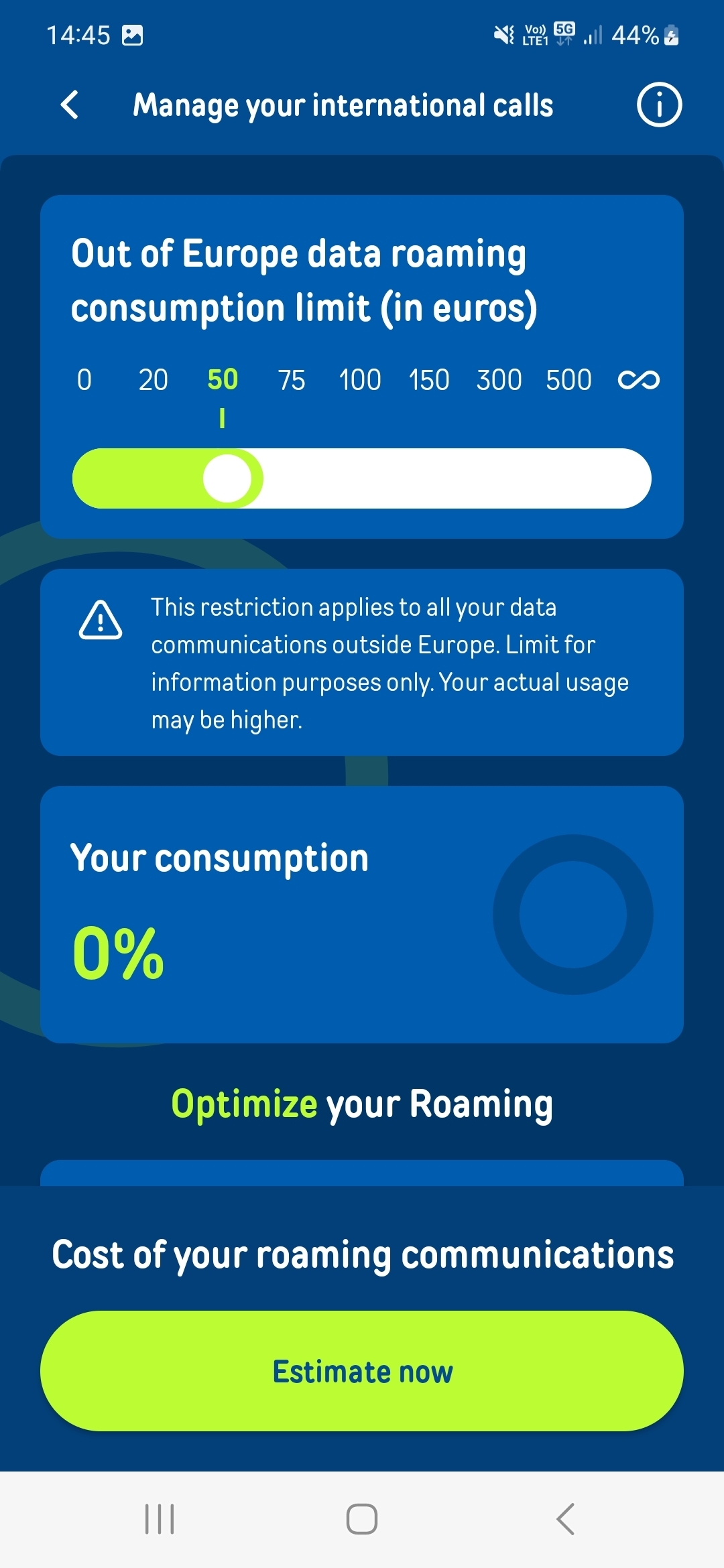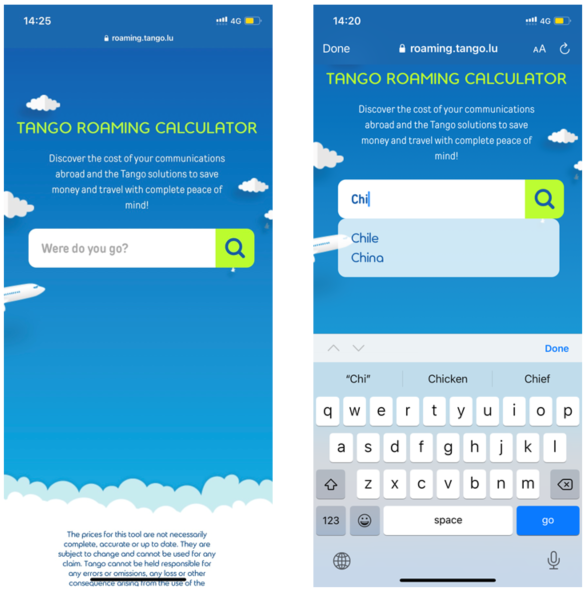 Download

the My Tango app

and take control of your subscription! As a traveler, this app will make your life easier. You'll be able to check your consumption and also plan whether it's better for you to take out an option for your journey or not!