Get the lowdown on how to restore your WiFi connection.
Move your equipment closer together.
The distance between the FRITZ!Box and your devices, as well as obstacles between your devices, can actually affect the quality of your network. 
Tango tip: try putting your FRITZ!Box in a vertical position for better wave diffusion.
Reboot your FRITZ!Box and your device.
Unplug your FRITZ!Box from the power supply for a few minutes
.
If you're using a computer
, tablet or mobile phone
, switch it off for more than 30 seconds to reset the network settings.
Check out the lights on your modem and perform some tests.
Case 1: The Power and WLAN lights are on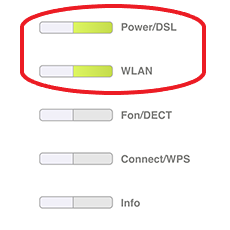 ​
Make sure you're connected to the correct WiFi network.
Test your connection using another device (mobile, computer), if it works with another device, then the problem is with your device. Restart it and try to forget your WiFi network and then reconnect to it (make sure you have your password before doing this!)
 Case 2: The WLAN light is off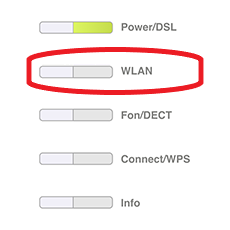 ​
If your "WLAN" LED is off, your WiFi isn't active. To reactivate it, briefly press the " WLAN" button on your FRITZ!Box. The light should start flashing and then stay on as soon as WiFi is reactivated.
Check that your cable Internet connection is working.
First, connect your FRITZ!Box and your computer using an Ethernet cable.
Disable WiFi on your computer.
If you still have a problem, then it's not down to your WiFi connection. The issue may be with your FRITZ!Box, so go to the Chat for detailed instructions!
If your Internet connection is stable, the problem is probably with your WiFi signal. Follow the rest of the steps in this article to try to restore your connection!
Disconnect your device from the WiFi network.
Disconnect your device from the WiFi network and forget your network connection.
Then reconnect, at which point you will need to re-enter your wireless network password.
Make sure you have your WiFi password to hand before you do this.
Make sure that your FRITZ!Box is plugged into a working outlet and that the Ethernet cable is connected to your FRITZ!Box and isn't damaged.
When you connect to your WiFi network, you may not know this, but you gain access via a WiFi channel. This channel is not exclusively linked to your FRITZ!Box and you share it with all the people in the vicinity of your home who also use a WiFi network.
If too many people use this channel at the same time, it can become saturated and this can disrupt your WiFi signal. So try changing your WiFi channel to improve your signal.
To change your WiFi channel:
Open a web browser
Enter "fritz.box" or "192.168.178.1" in the browser address bar.

The FRITZ!Box user interface will appear. Log in with the administrator password (available underneath your FRITZ!Box).

Go to the "Wi-Fi" tab and then select "Radio channel".
In the "Nearby Wi-Fi networks" section you will find the channel you are currently using, and its occupancy rate on a graph.
If you feel that your channel is too busy, in the "Radio channel configuration" section, select "Adjust radio channel configuration", which will allow you to choose a channel that you consider less busy.
If none of these tips have restored your connection, contact our Customer Service.